More Related Stories
"Inventor Shoots Himself on Dragon's Den!" (Canadian Invention Allows Anyone To Take Their Own Photo!)
November 12, 2012 --
!-- AddToAny BEGIN -->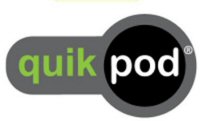 TORONTO, ONTARIO -- (Marketwire) -- 11/12/12 --
Editors Note: There are three photos associated with this press release.
Toronto inventor Wayne Fromm and daughter Sage will be appearing on the Wednesday November 21 (8 pm EST) broadcast of CBC's top-rated show "Dragon's Den". Fromm shoots his own photo alongside one of the program's stars Arlene Dickinson, while Sage Fromm captures an image with investor/venture capitalist Kevin O'Leary. Each face is perfectly centered with no indication that the photographer was also the one holding the camera.
Wayne Fromm's invention Quik Pod¯¯ (www.quikpod.com) is the world's first hand-held extendable monopod. This lightweight arm appears to float the camera in the air pointed at the photographer's own face as if another person is taking the photo. The Quik Pod has a built-in self-image viewing mirror to ensure that each photo will be centered.
"It allows the photographer to take a perfectly-centered self-photo, with faces and background as well, and be included in photos and videos without ever again having to ask a stranger for help," says Fromm, who invented the Quik Pod to use for family photos while on vacation. "No more awkward self-image shots with arm extended and head off to one side. Oprah included it on her O List and Jay Leno featured it on the Tonight Show!"
The compact Quik Pod weighs no more than a pair of sunglasses and is a boon for travelers, tourists and hikers wanting to be included in their travel photos without asking anyone for help or when no one else is available to take the photo. With the new GOPRO compatible versions (www.quikpod.com/explorerII.html) the photographer using a Quik Pod can capture his or her own face and body on video while snowboarding, mountain climbing or deep-sea diving. There is a smartphone adapter, the Quik Pod Mobile www.quikpod.com/iphone.html, for all iPhones, Android and Windows phones too.
Of his upcoming Dragon's Den appearance showing the Quik Pod, Fromm says, "I'm excited to show others how easy and useful it is to be able to 'shoot' themselves in a way that wasn't possible before."
Pop star Justin Bieber makes extensive use of the invention in his newest music video "Beauty And A Beat" as do amateur and professional photographers for their travel images. http://www.youtube.com/watch?v=MBAcAZqtXsQ&feature=plcp.
Quik Pod inventor Wayne Fromm has brought dozens of commercially-successful inventions to market, including "Disney's Beauty and the Beast Magic Talking Mirror Toy," "Tie Dye Teddy", "Crayola's Colour & Show Projector" and "Crazy Bones" to market.
Fits smartphones, all compact cameras, DSLR and GOPRO cameras.
Prices for the Quik Pod start at $24.95. Available online at www.quikpod.com and at Henry's Camera Stores (www.henrys.com).
U.S. Patent No.: 7,684,694. Canada Patent Pending.
Fromm Works, Inc. is an invention and design company that has marketed nearly fifty successful commercial products and is a proud supporter of Starlight Children's Foundation.
Learn more at: http://www.quikpod.com and follow on Facebook at http://www.facebook.com/quikpod.
To view the three photos associated with this press release, please visit the following links:
Photo 1: http://www.marketwire.com/library/20121109-Frommimage1LG.jpg
Photo 2: http://www.marketwire.com/library/20121109-Frommimage2LG.jpg
Photo 3: http://www.marketwire.com/library/20121109-Frommimage3LG.jpg
Contacts:
Fromm Works, Inc.
Wayne Fromm
(800) 567-0878
[email protected]


Copyright @ Marketwire
Related Keywords:
Fromm Works Inc. , Camera,Family,Toys,Digital Camera,Family,Communications,Movies & Music,Smart Phone,Camera/Film,Canada,USA,Toronto,Marketwire, Inc.,Sports,Music,Winter Sports,Outdoor Sports,Family,
---
Source:Marketwire. All Rights Reserved