More Related Stories
Boundless Releases Infographic on US Presidential Inaugurations and a Free US Constitution Textbook
Drunken Vice Presidents & Other Great Inauguration Facts Infographic
January 18, 2013 --
!-- AddToAny BEGIN -->

BOSTON, MA -- (Marketwire) -- 01/18/13 -- Boundless -- the free alternative to traditional textbooks -- has released a free textbook on the US Constitution and an infographic with important (and fun) facts about presidential inaugurations in honor of the upcoming inauguration.
"While the popular press might like to skewer Vice President Joe Biden's speeches, it's highly unlikely that he'll mortify the crowd in the same way Vice President Andrew Johnson's whiskey fueled speech did in 1865," said Boundless founder Ariel Diaz. "More importantly, we are proud to advance our mission of delivering high quality, free college textbooks created from open education resources. We hope all Americans find our latest open textbook, highlighting the US Constitution, the perfect companion to a new year of political discourse."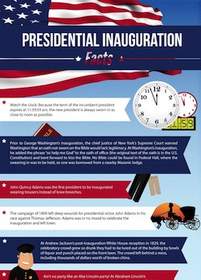 The US Presidential Inauguration
The 20th amendment moved the Presidential inauguration to January 20th, instead of March, to eliminate the long "lame duck" period, where the nation's leadership could suffer a constitutional power vacuum in the long wait.
Some other important (and fun) tidbits in the Presidential Inauguration Facts Infographic, which is available here, include:
Dwight D. Eisenhower was lasso'd by a cowboy on a horse in 1953.
The campaign of 1800 left deep wounds for presidential victor John Adams in his race against Thomas Jefferson. Adams was in no mood to celebrate the inauguration and left town.
Ronald Reagan holds the record for both the coldest and warmest inaugurations. In 1981, temperatures reached 55 degrees during his speech and dipped to 7 degrees for his 1985 event.
US Constitution Textbook
Get your free version of the US Constitution Textbook here and see why students at more than 2,000 colleges in the U.S. are turning to Boundless for free, effective textbooks and tools for learning. Boundless offers free textbook alternatives for books such as Campbell Biology and Principles of Economics, and also has open textbooks in diverse subjects such as Biology, History, Marketing and more. See why students are ditching their textbooks and saving hundreds of dollars by visiting www.boundless.com.
About Boundless
Boundless is the only free alternative to expensive textbooks. Boundless creates free online textbooks and study tools for students using the wealth of high quality, openly licensed educational content available online. Learn more at www.boundless.com.
Image Available: http://www2.marketwire.com/mw/frame_mw?attachid=2205895

Add to Digg Bookmark with del.icio.us Add to Newsvine
Contact:
Boundless
Email Contact


Copyright @ Marketwire
Related Keywords:
inauguration infographic, drunken vice presidents, inauguration facts , USA,Marketwire,Other,
---
Source:Marketwire. All Rights Reserved